nopCommerce is a widely known and utilized e-commerce solution featuring open source design put together on the most previous version of ASP.Net MVC 4.0. It is also built on and combined with the MS SQL 2005 version or any higher versions used as database backend. In layman's term, it is the shopping cart software that you use when shopping and buying clothes online. This popular open source solution has varied and amazing features that could boost e-commerce sites, particularly their operations, sales and revenue.
Why choose and use nopCommerce?
In comparison to other types of open source solutions, this application has well-organized and systematic project structure. It is user-friendly because of its easy and customizable features that allow extension of use. Although the system is quite versatile and extremely powerful, it is not intimidating and complicated to use and apply. nopCommerce is dubbed as one of the top favorite and featured applications with hundreds and thousands of users downloading the application every now and then.
nopCommerce 3.0 Review
The earlier versions of this revolutionary application have definitely made it on top of the virtual and apps mainstream. However, nopCommerce 3.00 version in May 2013 is another milestone for the software developers and creators. nopCommerce 3.0 review reveals that it goes the extra mile to provide a comprehensive e-commerce solution with a fully open source platform. For instance, this newest addition to their portfolio is the only one that supports nopCommerce multi-store and multiple vendor features. This is a revolutionary platform since there are no other open source software versions that provide shopping cart features with multiple stores and vendors covered.
nopCommerce 3.0 Features
The different designs and features of previous nopCommerce versions were still retained and available in the 3.0 edition; however, the issues and tweaks of the earlier products were already fixed. The best thing about this nopCommerce version is that problematic areas of the recent editions were solved, optimized and refactored for better and more improved nopCommerce 3.0 features.
Multi-Store Features
This particular feature allows users to run and operate more than one store with just a single installation of the nopCommerce application. Thus, nopCommerce could host multiple stores, merchandisers and retailers front end using different domains. The perk is that users could efficiently and conveniently manage several domains of retail stores and admin operations through only one administrator panel. This software is the one used for single website owners featuring multiple store retailers in their site.

nopCommerce new store setup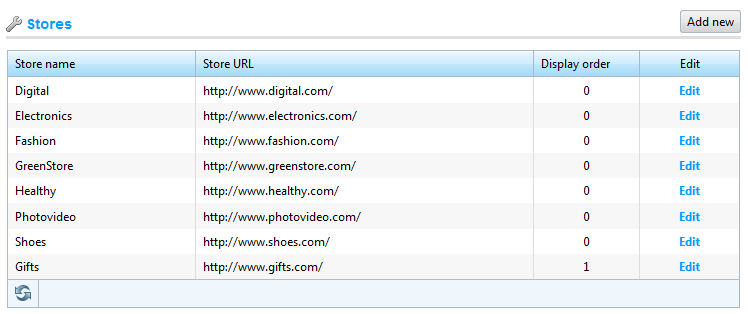 nopCommerce stores configuration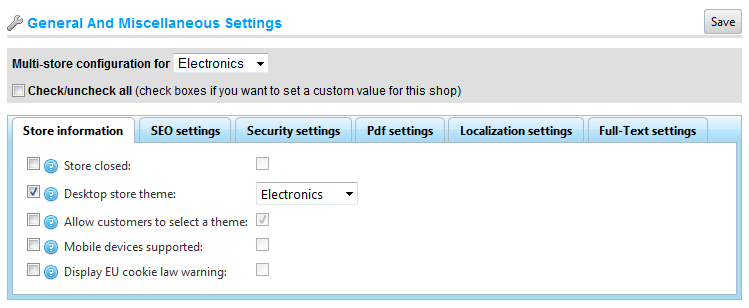 nopCommerce configuring per store
Multi-Store Limitations
This feature of nopCommerce also has its own restrictions and limitations. One of the limitations of nopCommerce is that it cannot function for different virtual websites on the same category. It is a single app and uses a single app pool; hence users cannot host their store using different servers. It also does not have configurable shipping and payment settings, no plugins per store, tier prices allocated for each store, discounts and checkout attributes for every retailer store.
Multi-Vendor Features
Multi-Vendor nopCommerce feature enables users to sell different products offered by multiple virtual vendors. Sellers or vendors have the tool to manage orders, product catalogs and shipments among others in their business operation. This nopCommerce application feature allows multiple and independent vendors to display products in your catalog for visitors and online shoppers to see and purchase the items from the vendors themselves. Multi-vendor nopCommerce feature creates the venue for different vendors in the administration panel. Customer accounts are then mapped to different multiple vendors for their use. The multi-vendor feature also assigns and accesses vendor role and helps in proper product management such as shipment and orders through allowing the user to login to the administrator panel.

nopCommerce vendor setup
Multi-Vendor Limitations
There are missing features from this application including the profile page for the vendor, configurable shipping options, payout tracking system for completed and approved orders, filter and reports. Although it only offers basic features, the implementation is customizable.
nopCommerce is a very flexible, easy to use, complete and the only open source solution that offers multi-store and multi-vendor features. nopCommerce a revolutionary and innovative e-commerce platform solution, which enhances business operations from inquiries, lead generation, order, sales and revenues. NopCommerce is continuously adding more features to enhance its services from performance optimization, SEO and CSS and HTML refactoring.